Right now,
Ithaca Fes
t is going on here in upstate New York. One of my roommates and I wandered around for a little bit, eating general tso's chicken from a little booth. Festivals always bring out the most interesting people--I saw a woman who was legitimately dressed like a colorful witch in the 85 degree weather.
At one point we were eating our food and this old woman asked if the chairs next to us were taken and when we said no she sat down right next to us, not moving the chair or anything, and struck up a conversation with us about her spinach curry and the weather. She was sweet though.
Anyway, we walked into a new thrift store and I got a pencil-style dress for 6 dollars and then we headed down the street. The coolest thing we came across was this: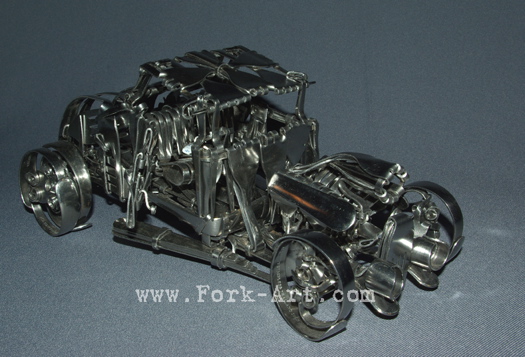 Incase you're wondering, yes, that is a car made of forks. The guy at
Fork-Art
had everything from little people made of forks playing instruments, to the grim reaper, to a spoon in a coffin, to jewelry. So cool.
This one was awesome too:
This is the first summer of my life where I've discovered how cool fork art is-- Too bad I don't know how to do it. It'd definitely be something cool to try!